Water damage to your hardwood floors doesn't always mean floor replacement. Thankfully, there are ways to save them that extract the water and dry your floors without having to remove them. 
Water damage comes in many forms. Your ice maker can leak, hot water heater can burst, pipes can freeze and then expand and break, or something more catastrophic can happen like a flood. No matter the cause, water and wood never mix. When water sits on hardwood floors, it can permanently damage the wood. Wood will absorb water through its pours which can ultimately cause warping and/or discoloration.
The first thing to do if you notice water on your floors is call Blue Chip Restoration at 615.832.5300. We have a very high success rate drying hardwood floors when we are called in early for water removal.
Let's take a step back and address the five main types of damage that can happen to hardwoods.
5 Types of Water Damage to Hardwood Floors
Cupping – When hardwood floors have too much moisture a process called cupping can start. This happens when the edges of the floorboards swell and rise higher than the center of the boards creating an uneven surface.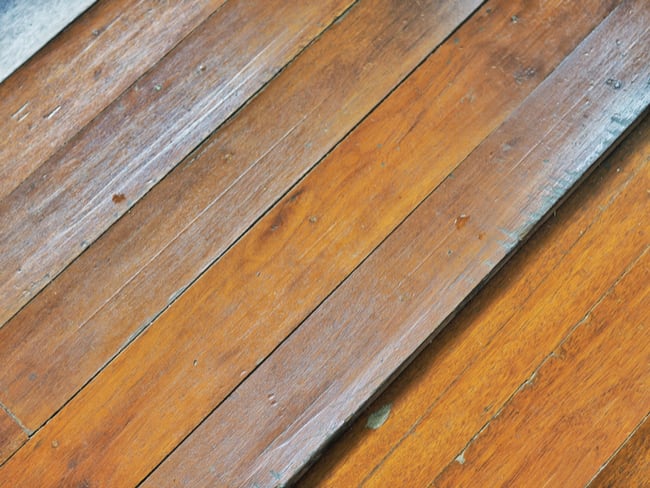 Crowning – Crowning is the opposite of cupping. This happens when the middle of the board is higher than the edges of the floorboard. Typically, this is caused by moisture on the surface of the floor, or when the floor has been sanded too soon after cupping. When this happens, the top edges of the board are sanded off and are lower than the rest of the boards when they return to a normal moisture content.
Buckling – Buckling is the most extreme reaction to moisture. This happens when the floor expands beyond the expansion gaps and pulls away from the subfloor. It can feel like walking on a raised floor. In low humidity, the floor may shrink back, but you will often see spaces between the wood boards.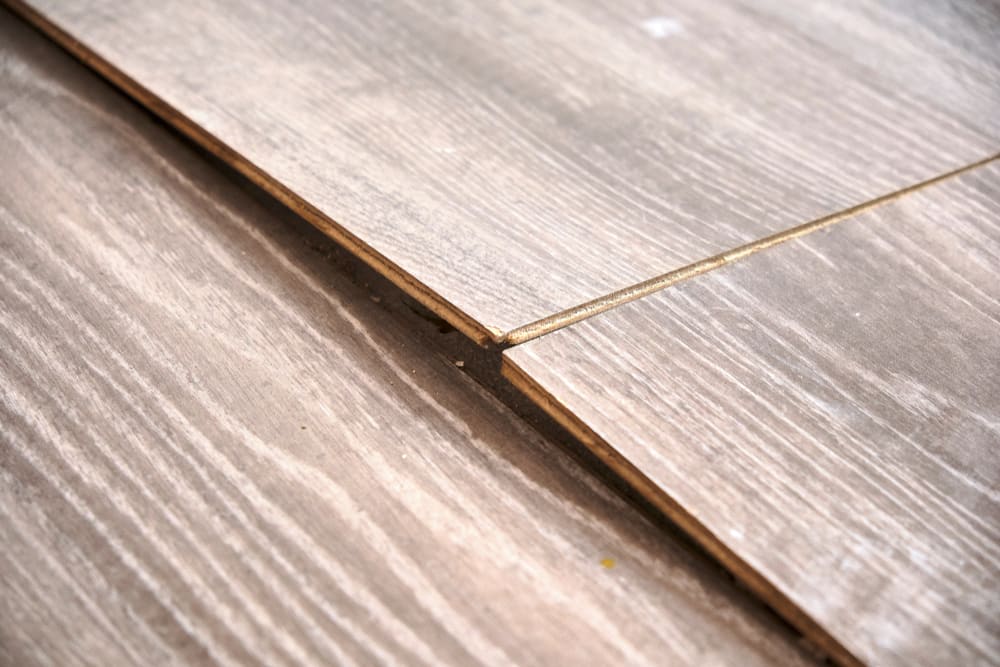 Splits and cracking – This is the most extreme result of excess moisture or humidity. Extreme humidity or moisture can cause the wood to expand significantly, and that increased pressure can cause the boards to crack or split in the center. This type of damage is unfortunately permanent because the wood is no longer protected.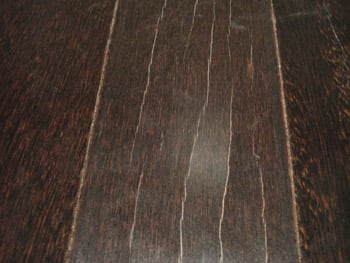 Gapping – If you notice small gaps in your wood planks this is usually normal. It can happen when the relative humidity is lower than normal which can cause the wood planks to shrink. Once humidity levels rise, the planks will expand again and most gaps will close up.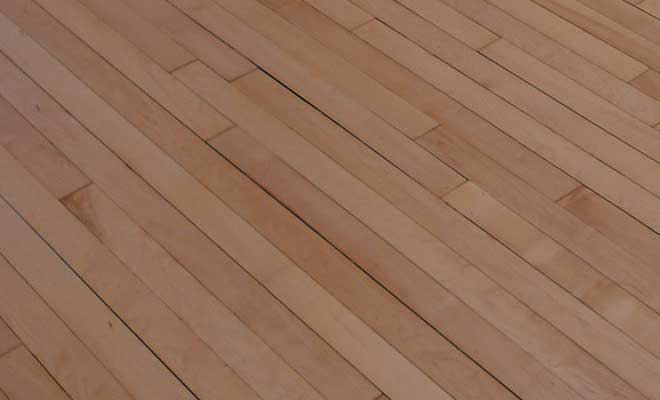 We use a floor drying system that when caught early, can reduce the moisture in the floorboards and lay them flat again. The process typically takes somewhere between two-to-six days.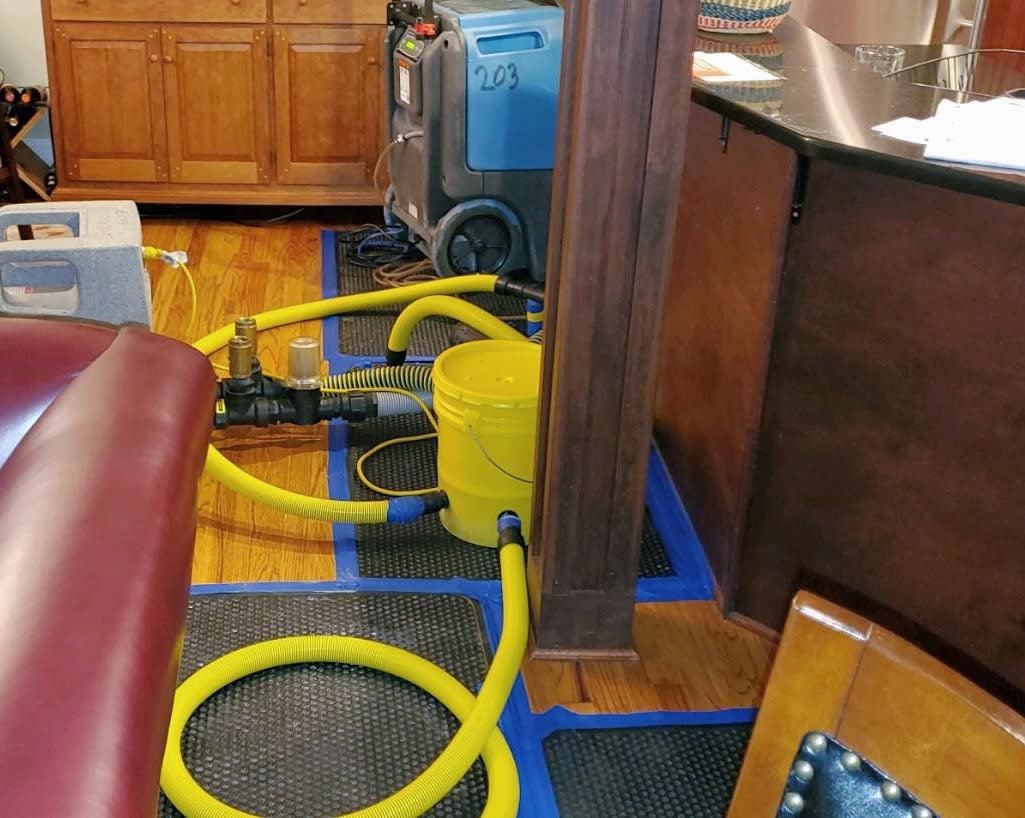 Our water removal/drying process includes:
One of our trained IICRC certified project managers will assess your flooring, and the cause of the water. From there, they will develop a drying plan.
The affected area will be moisture mapped so we have an established baseline to check against once we've completed the drying process.
Proper equipment will be installed to begin the drying process. This may include dehumidifiers, fans, and our floor drying system.
Our technicians will monitor the drying progress by taking moisture readings again after two days. Should additional drying be needed, equipment may be repositioned to circulate airflow to a different part of the floor.
We'll continue this process, taking additional moisture readings, until the woods moisture content is back to a normal level.
Should I contact my insurance?
The severity of the water damage usually determines if you should contact your insurance company. We work with ALL major insurance companies and as a result, we adhere to their strict guidelines for estimating our work by using the required estimating software. We can communicate directly with your insurance provider to make sure your property is properly restored to pre-loss conditions.
24/7 Emergency Rapid Response Services
At Blue Chip we are committed to responding to your emergency restoration calls 24/7, 365 days a year. Our Rapid Response means we will respond within 15 minutes of your damage repair call. We are also committed to being on-site in the Nashville area within two hours after speaking with you.