Summer can be an unsettling time of year as severe storms can pop up at any time. Knowing what to do in the event of a storm emergency will save you time and money. It will also help you get your home restored back to normal as quickly as possible.
Five Steps to Take After Storm Damage
Check your home for damage
Document any damage
Contact your insurance provider
Determine how much you're willing to fix
Choose the right contractor for repair work
Safely check your home for damage
Before going outside, check the local news to make sure your area is safe.
Watch for hazards like broken glass, exposed nails, broken power lines, etc.

If you see a power line down, assume it is still energized. Stay at least 10 feet away and contact your police and/or utility company.

Avoid standing water, especially if there are downed power lines close by.
If it's dark out, carry a flashlight with you. Never bring a candle or other open flame.
Be cautious of any physical hazards around the outside of your home including collapsed roofing materials, window damage, collapsed walls or any standing water in the basement or inside of your home.
If you smell gas, or suspect a leak, shut off the main gas line, open the windows and go outside. Notify the gas company and the proper authorities and don't return until they have deemed your home to be safe.
Document any damage
Take pictures before contacting your insurance company to start a claim.
If a tree limb or other heavy debris fell on your roof during a severe storm or a tornado, you might have structural damage.

Common signs of roof damage include:

Holes in your roof
Missing, broken, or dented shingles
Dents on vents, gutters, or flashing
Ceiling or roof leaks
Debris collected in gutters or downspouts – Safely remove any debris that you can, and make sure downspouts are intact to divert water away from your home.
Split seams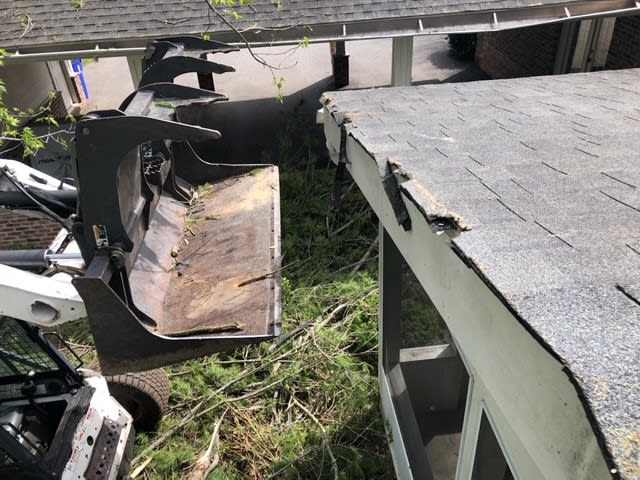 Windows and doors are most vulnerable to wind damage from flying debris.

Inspect windows for cracks, holes, broken panes, and damaged frames. Board up any broken windows until they can be fixed.
Inspect siding, paint, bricks, and other exterior surfaces.
Check HVAC units for dings, dents, cracks, holes, etc.
Depending on the severity of the storm, things like flooding and power outages can happen inside your home.

If there is a power outage and you have a sump pump, there may be standing water in your basement.

Do not step in standing water until your power is turned off to avoid risk of electrocution.
If possible, turn the sump pump back on to discharge water from the area.
Call your plumber to fix a broken sump pump.

Flood damage can cause mold growth if left for too long. Check for signs of mold growth once the water has been removed from the impacted area.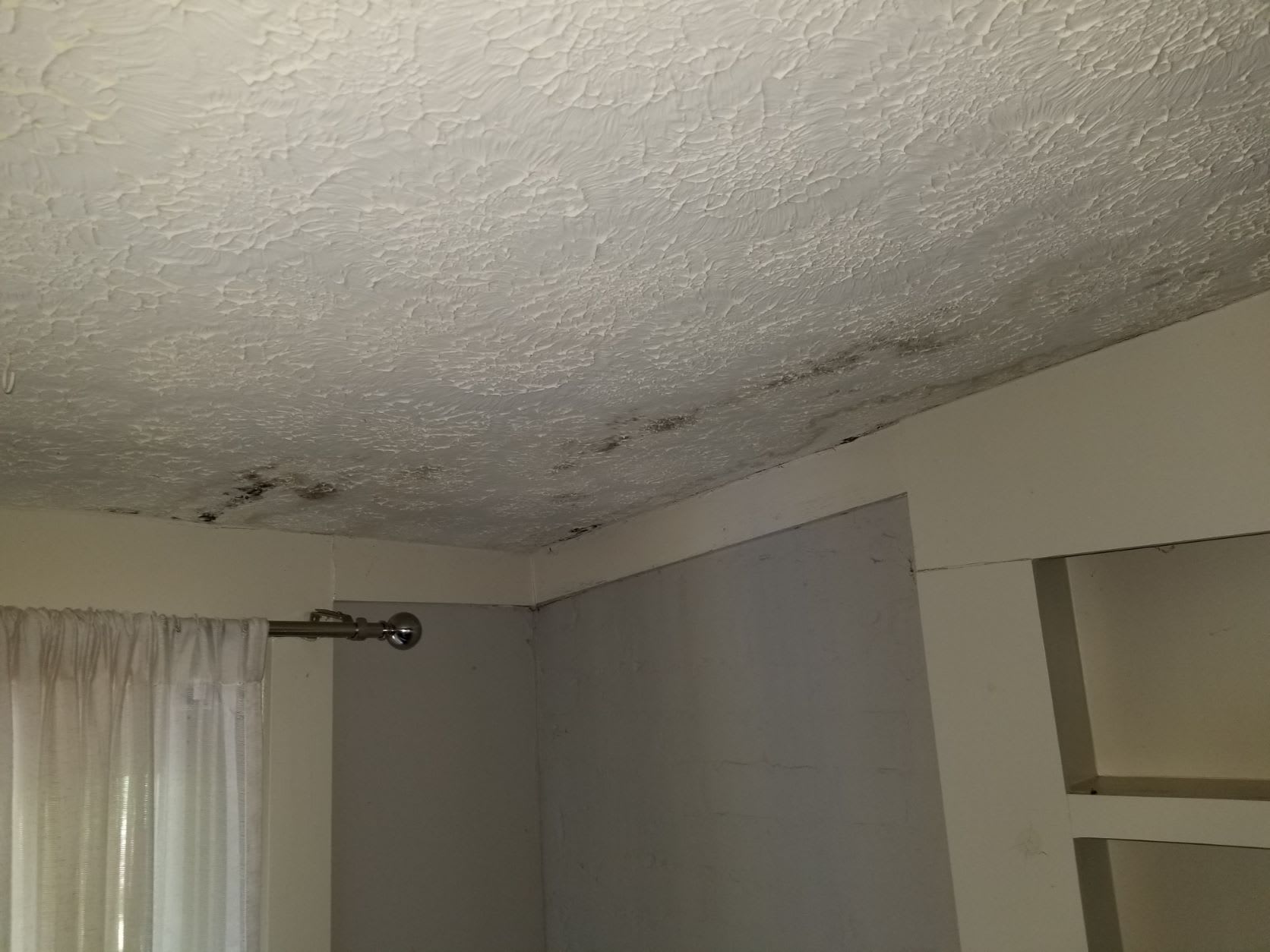 Contact Your Insurance Provider
In these situations, having a good insurance policy and knowing your insurance agent can be lifesavers. It's important to document everything quickly and thoroughly. Be honest and accurate. If an insurance adjustor visits your home and finds the damage doesn't line up with what you reported, you risk voiding all or part of your claim.
Be prepared for your claim to take a significant amount of time to settle. Depending on the severity of damage, it can take up to six months or longer to settle your claim and repair your home. Many factors play into this including wait times on building materials and contractor schedules.
Keep your receipts! Don't limit your claims to the physical damage done to your home. You might need temporary housing, a rental car, etc. You will only be compensated for what you can prove through receipts.
Don't get discouraged. Stay in contact with your agent during the process for regular updates.
Determine how much you're willing to fix
Even the best policies won't cover every expense involved in fixing a storm-damaged home. When water is involved, it can affect many things from the floor to the ceiling. You will most likely need to come out of pocket for some of the repair.
Valuables like laptops and jewelry often do qualify for financial compensation. But most sentimental objects, like keepsakes and heirlooms, won't qualify. The "value" of those items doesn't have a set dollar amount, so you can't expect your insurance company to reimburse you for those.
For fixable items like furniture, windows, flooring, etc., wait for a quote from your insurance company and the contractors you are working with. Insurance companies will base payment off those quotes. At Blue Chip Restoration, we use the same software most insurance companies use to prepare their quotes. This makes it easier on the homeowner and the insurance company as we are speaking "apples to apples" with the insurance provider.
Always keep in mind, your insurance is only responsible for fixing your home to its pre-loss condition. You may decide to put hardwood floors in a room that previously had carpet, but insurance is only responsible for paying for the carpet replacement because that was the pre-loss condition. You may need to pay additional to achieve the upgrade you want.
Choose the right contractor
Some contractors only handle the water damage or demolition, and some only handle structural repairs. Others, like Blue Chip Restoration, provide all the services needed from start to finish to help return your home to pre-loss condition.
Start by finding someone you can build a relationship with. Since the repair process can take time, this is important. There will be many phone calls, quotes, negotiations, re-evaluations, etc. You'll want to work with someone who you know you can trust and who has you and your home's best interest in mind.
Reliable Storm Damage Repair
You can count on top-quality storm damage remediation and repair from Blue Chip Restoration. We provide water, wind and mold remediation services, and as general contractors, we can work with you step-by-step through the repair process.
We offer a 24-hour emergency response service. We are committed to replying within 15 minutes of receiving your damage repair call and being on-site in the Nashville area within two hours after speaking with you.